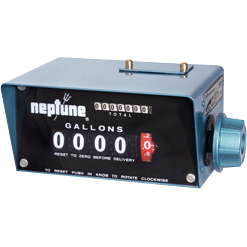 *Image is a representation of this item. Actual item may vary.*
Hover over image to zoom
(REBUILT PART)
600-WG

Remanufactured Mechanical Register Counter

Low Profile, Fits Neptune, Display: Whole Gallons
Ships From Manufacturer
Model #
Description
Price
Qty
600-WG-R
Low Profile, Fits Neptune

When selecting this product, the core charge (seen below) will automatically be added to your cart.

$595.00
Model #
Description
Price
600-WG-C

For those planning on returning a core - This amount will be refunded to your card if the core is returned within 30 days.

CORE - Remanufactured Mechanical Register Counter, Fits Neptune
$250.00
Davis Airtech - 600-WG - Remanufactured Mechanical Register Counter
The 600 series Register is mechanically driven designed for easy adaptation to a local or remote batching and recording system. The 600 series register offers a 5 digit delivery quantity reset similar to the Models 831/841 and an 8 digit non-resettable totalizer. It is fully mechanical and does not offer mechanical preset or ticket printing options.
600 Series Register Features
Five digit roller type reset wheels, with large numerals for ease in reading up to 10-15 feet away.
Eight small non-resettable totalizing wheels mounted at the top right of the register front serve as an odometer.
Low profile for ease in retro fit installations.
Light weight, heavy gauge steel outer casing.
Ability to mount all digital and analog pulse transmitters, calibrated output.
Available in US and Imperial gallons, litres, decalitres, pounds and kilograms.
Our ticket printers and visible registers are guaranteed for workmanship and materials for one year from date of purchase. Some of the procedures our ticket printers and visible registers go through are as follows:
All grease, grime, dirt, etc. is removed
Register wheels are refinished as needed
All parts are checked for wear and replaced as needed
Totalizers are 100% rebuilt
Exchange My Core (Core Return Required Within 30 Days)
---
The 'Exchange My Core option' is for those that need a rebuilt product fast, we send them a rebuilt product from our stock and they send us their core within 30 days.

If the core is not returned within 30 days then Westech Equipment will charge the customer for the price of the core.

The core price will also not be charged to the customer if the core is not rebuildable.

If you have any questions as to whether or not your core is rebuildable, or if you have any questions about our core charges please call us at 1-800-433-8831.


I Don't Have A Core
---
The 'I Don't Have A Core' option is for those who just want to buy a rebuilt product to save some money and they don't have an item that needs to be rebuilt or that they want to exchange.

Because this option does not involve a core, they are charged for the price of the rebuilt product and the price of the core and there is no oppurtunity for a refund on the core charge.