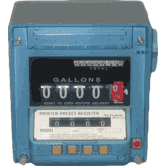 *Image is a representation of this item. Actual item may vary.*
Hover over image to zoom
(REBUILT PART)
832

Remanufactured Mechanical Register Counter

with Preset, Fits Neptune, Display: 1/10 Gallons
Ships From Manufacturer
Model #
Description
Price
Qty
832-R
with Preset, Fits Neptune

When selecting this product, the core charge (seen below) will automatically be added to your cart.

$738.00
Model #
Description
Price
832-C

For those planning on returning a core - This amount will be refunded to your card if the core is returned within 30 days.

CORE - Remanufactured Mechanical Register Counter, Fits Neptune
$250.00
Davis Airtech - 832 - Remanufactured Mechanical Register Counter
The 800 series register is the latest of four multi-function devices specifically designed for petroleum distribution and industrial process industries. Some models allow automatic preset deliveries via mechanical valve and Weights and Measures approved ticket printing.
The 832 Model is the basic 830 and 840 features plus a preset register that provides automatic deliveries. The operator sets the register for the desired quantity from the front panel. The flow will cut off automatically at the exact volume desired when used in conjunction with either a mechanical valve or a solenoid actuated valve. There are two preset models available, a single trip for one stage shutoff or a double trip for two stage shutoff (delivery decreases, then the final shutoff stops the delivery).
800 Series Register Features
Standard eight digit non-resettable totalizer, five digit delivery display, four preset and five or six digit printer
Measurement in Gallons, tenths of gallons, litres, dekalitres, pounds and kilograms
High visibility wheels
Long life, precision die cast Zamac printer wheels provide clear, sharp, easy to read tickets
Our ticket printers and visible registers are guaranteed for workmanship and materials for one year from date of purchase. Some of the procedures our ticket printers and visible registers go through are as follows:
All grease, grime, dirt, etc. is removed
Register wheels are refinished as needed
All parts are checked for wear and replaced as needed
Totalizers are 100% rebuilt
Exchange My Core (Core Return Required Within 30 Days)
---
The 'Exchange My Core option' is for those that need a rebuilt product fast, we send them a rebuilt product from our stock and they send us their core within 30 days.

If the core is not returned within 30 days then Westech Equipment will charge the customer for the price of the core.

The core price will also not be charged to the customer if the core is not rebuildable.

If you have any questions as to whether or not your core is rebuildable, or if you have any questions about our core charges please call us at 1-800-433-8831.


I Don't Have A Core
---
The 'I Don't Have A Core' option is for those who just want to buy a rebuilt product to save some money and they don't have an item that needs to be rebuilt or that they want to exchange.

Because this option does not involve a core, they are charged for the price of the rebuilt product and the price of the core and there is no oppurtunity for a refund on the core charge.