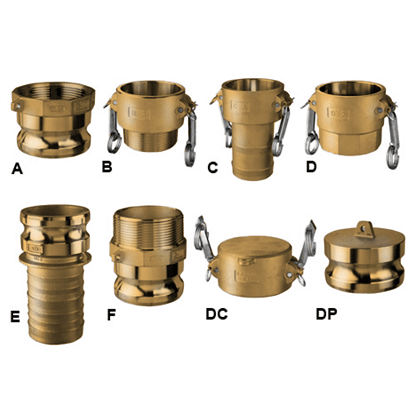 *Image is a representation of this item. Actual item may vary.*
Hover over image to zoom
Seal Fast

X 600BR

Quick Camlock Couplings, Adapters, Dust Caps and Plugs

6 in., Brass
Ships From Manufacturer
| Model # | Description | Price | Qty |
| --- | --- | --- | --- |
| A 600IBR | 6 in., Brass, A - Female NPT x Male Adapter | $79.92 | |
| B 600IBR | 6 in., Brass, B - Female Camlock Coupler x Male NPT | $111.50 | |
| C 600IBR | 6 in., Brass, C - Female Camlock Coupler x Hose Shank | $135.41 | |
| D 600IBR | 6 in., Brass, D - Female Camlock Coupler x Female NPT | $105.50 | |
| E 600IBR | 6 in., Brass, E - Male Adapter x Hose Shank | $125.24 | |
| F 600IBR | 6 in., Brass, F - Male Adapter x Male NPT | $88.71 | |
| DC 600IBR | 6 in., Brass, DC - Dust Cap Camlock Coupler | $101.34 | |
| DP 600IBR | 6 in., Brass, DP - Dust Plug Adapter | $66.64 | |
This price cannot be guaranteed and is subject to change after order is placed. The manufacturer cannot guarantee pricing at this time as their pricing is changing daily. If you proceed with ordering this item, you agree to this change and a sales representative will reach out to you with the pricing adjustment. Since we do not keep credit card information on file it will require getting payment for the additional costs.
Seal Fast - X 600BR - Quick Camlock Couplings, Adapters, Dust Caps and Plugs
Note - Regarding Gaskets: All Seal Fast couplers are supplied with Buna-N gaskets as standard. However, this sealing compound may not be compatible with all applications.

Standard Sizes and Threads: The size indicated for a coupler or adapter is nominal size of pipe or hose to which it connects. Threaded parts are furnished with tapered pipe threads (NPT).
| | |
| --- | --- |
| ½ in. | 125 PSI |
| ¾ in. to 4 in. | 150 PSI |
| 5 in. to 6 in. | 75 PSI |
Recommendations based on use of mating fittings at ambient temperatures of 70°F with standard Buna-N gasket installed. For use at elevated temperatures or other unusual operating conditions consult Westech.

WARNING: Working pressure may vary depending on how the couplings are attached to the hose assembly. Before operation, ALWAYS check the hose assembly for proper attachment and couplings are in working order.

Note: Parts may not look exactly like pictures.
| Model | Description |
| --- | --- |
| A 600BR | A - Female NPT x Male Adapter |
| B 600BR | B - Female Coupler x Male NPT |
| C 600BR | C - Female Coupler x Hose Shank |
| D 600BR | D - Female Coupler x Female NPT |
| E 600BR | E - Male Adapter x Hose Shank |
| F 600BR | F - Male Adapter x Male NPT |
| DC 600BR | DC - Dust Cap Coupler* |
| DP 600BR | DP - Dust Plug Adapter* |
* Dust Caps and Dust Plugs are not designed for pressure applications